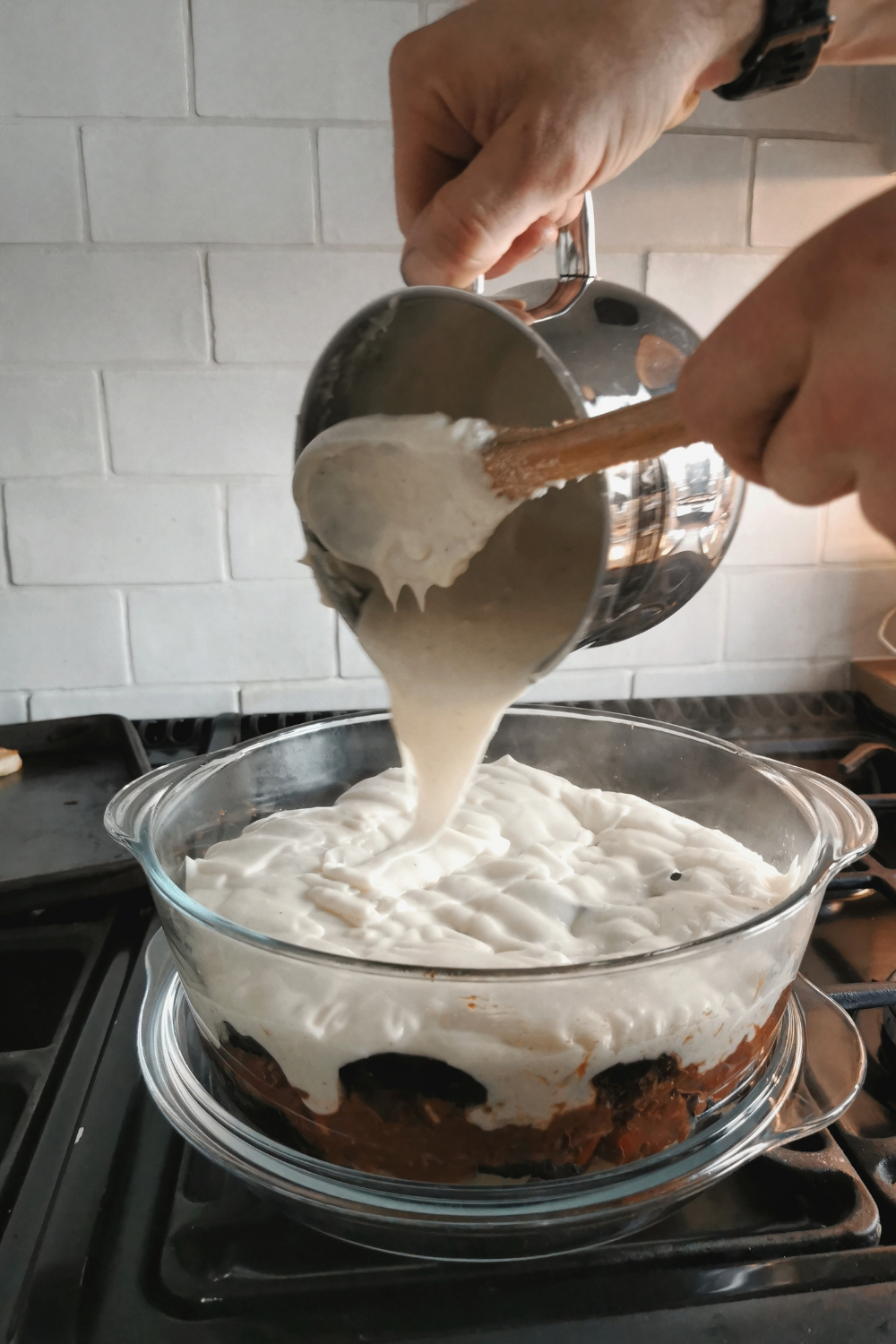 We love Greek Food in our house and this more-ish moussaka recipe will warm your hearts and transport you (hypothetically of course) to that gorgeous little Taverna on the shores of your favourite Greek Island (if only for a short while…)
We love how moussaka can be a realy winter warmer, but just as delicious in the summer! A recipe for all slow seasons…
So, if you have a cosy day at home planned, this is the perfect recipe for you to try…
Ingredients
500g of 5% lean mince meat
4 potatoes
3 Aubergines
1 Onion
1 Clove of garlic
1 Tin of chopped tomatoes
A generous glug of red wine
Tomato puree
Salt
Pepper
Sugar
Nutmeg
Cinnamon
A bay leaf
Parmesan Cheese
Cheddar Cheese
700ml milk
80g Butter
80g Plain flour
Method for our More-ish Moussaka Recipe
First, rinse your potatoes & aubergines and dry off
Start to chop your potatoes and aubergines in to slices of around 1cm
Grab a baking tray and cover lightly with oil so that your potato and aubergine doesn't stick to the bottom. Lie them flat on the tray and put in the oven at 180 degrees celcius for around half an hour
Whilst the veg is cooking, start to chop your onions and garlic finely, and add to a large pan to fry in rapeseed oil until cooked through
Then add your mince and fry until brown
Pour in a generous glug of red wine & around 2 tablespoons of tomato puree paste and mix everything together
Drop in your salt, pepper, 1 teaspoon of Cinnamon, 1 bay leaf and your tin of chopped tomatoes and allow to simmer for around half an hour
As the mince concoction, potatoes and aubergines are cooking it's time to start making the white sauce
To make the white cheese sauce, use a pan to melt the butter over low to medium heat. Then start to add the flour whilst whisking continuously to make your paste. (You must keep whisking to prevent your sauce from going lumpy or burning to the bottom of the pan.) Then start to add warmed milk in steadily and in stages and whisk to mix all the components in to a thick consistency of sauce.
Once you've completed the white sauce, add in your small cup of parmesan (or hard cheese) and mix in
After half an hour it's time to take your potatoes and aubergine out of the oven, and to take the mince off the hob.
Now that everything is done it's time to start assembling the layers of the moussaka. This meal serves 4 big portions, so you'll need a medium to large baking dish that is quite deep to add the layers.
First start by buttering the bottom and sides of the pan.
We start by layering the potatoes first, then the next layer roughly around half of the aubergines. Then it's time to pour in all of the mince meat mix and spread it across evenly. Then layer up with the last of aubergines. Lastly, it's time top the moussaka with the white cheese sauce.
Finish by sprinkling the cheddar across the top layer (gives it a lovely crisp crunch when cooked!)
Now, pop it in the oven for around 60 minutes at 180 degrees celcius.
Serve with salad, wedges and our favourite, Mary Berry's salad dressing in the summer, or with tender stem broccoli in the winter months.
We hope you enjoy making this recipe! It's a great one for all seasons and it's a nice cooking process that you can enjoy on your own or with a loved one.
We'd love to see you enjoying your moussaka recipe – share your photos using the hashtag #quietlywildweekends
Dried Flower Spring Wreath Making Workshop – 16th March 2022
After selling out 4 consecutive dates at Christmas, we are thrilled to announce a new Dried Flower Spring Wreath Making Workshop on the 16th March 2022. It will take place at the Crown Hotel in Boston Spa.
A welcome drink of fizz on arrival (soft drink available);
A Charcuterie Board;
Step by step tuition by Bee;
10 inch wreath;
Scissors;
A selection of seasonal dried & preserved flowers to create the most beautiful wreath;
Floristry wire;
Twine to hang your wreath