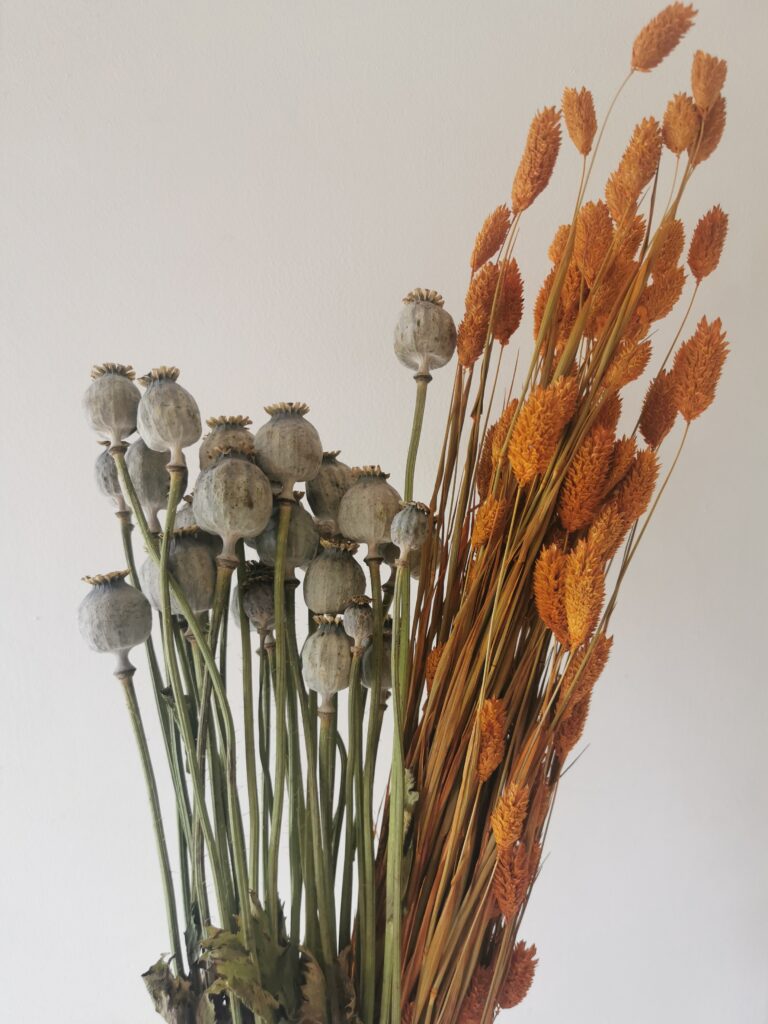 A love letter to Harvest Time
There are two camps on this earth. One, that is filled with those who cling on to every ounce of the summer months soaking up the (very little) sun, and the second is those who can now see the Autumn months drawing closer and can't wait for it to arrive. 
This year, we have firmly found ourselves sitting in the latter camp.
Perhaps it's that slight chill in the air, that we've not been afforded the glorious heatwaves we had been promised? But somehow, I feel it creeping in earlier this year and I'm not mad about it.
As an October baby myself, I do find the Autumn one of the most magical times of year.
The leaves changing to golden hues of orange and brown, brambles are still thick, tall tree's still loom over us before the promise of winter sets in.
It's a glorious time of year for fruit picking and making hot crumbles, sitting down to delicious roasts and then falling asleep in front of the fire on a lazy Sunday afternoon.
The fields are being harvested and prepped leaving beautiful patterns in the straw.
People think of Spring & Summer as being ripe months, when in actual fact Autumn is still so full of abundance.
There's another reason I'm writing to you today because I'm especially looking forward to September this year, more-so than any other year.
After a lot of soul searching and taking stock of the last 18 months (who hasn't?) I have decided to reduce my hours at my full time job.
Whew. And breathe.
It's been a long time coming but now this gives me the chance to free up more time for passion projects. The quietly wild store being one of them.
I swiftly realised during June & July, when life started to resume to some resemblance of normality, that when not dedicating time to wreath making or this business my mindset quickly deteriorated.
It certainly proved my theory and further cemented my whole ethos of building this small business off the ground to help people find calm and peace in their daily, chaotic lives.
I was my own perfect customer.
So, with that life-changing and re-affirming news there's so much exciting stuff in the pipeline.
Plans are already in motion for some IRL events (yep, you read that right! Keep your eyes peeled if you're in the Leeds area). There are other things that I have my sights set on and a whole host of gloriously good stuff to help you feel calm and relaxed.
I genuinely couldn't be happier about it.
If you think your friends or loved ones might need a slice of creative calm, please don't hesitate to forward this email on to them.
I realise that this post has been a long one, and slightly self indulgent too, so I won't keep you any longer. I'd just like to thank you for sticking around and supporting my small business the way you have, from every sale, to a like, share or comment on Social Media.
It doesn't go unnoticed.
But before I go, as newsletter subscribers you do get a little sneak peak. I'm just letting you know that you get priority access to our Autumn Wreath news which are now live on our site.
DRUM ROLL PLEASE…
We are introducing: the harvest – it is here to ring in the Autumn Season.
Think cosy nights in, with the rain gently tapping on the window and a big mug of hot chocolate (complete with all the trimmings of whipped cream and marshmallows) whilst you quietly create your wreath. The ultimate mindful experience if you ask us here at the quietly wild!
This kit is great for those who want a new hobby or activity to do whilst the nights draw in and outdoor activities become fewer. Head to the shop now to pre-order!